Global platinum production declined by 5.7% to 5.8 million ounces (moz) in 2022, with combined output from South Africa and the US declining from 4.7moz in 2021 to 4.4Moz in 2022. This fall was partially offset by increases in production from Russia, Zimbabwe, and Canada, where total production rose from 1,295.9 kilo ounces (koz) in 2021 to 1,317.3koz in 2022.
South Africa is the world's leading platinum producer, accounting for 72.8% of total output in 2022. The country produced 4.3moz of platinum in 2022, a 7.7% decrease from the previous year, owing primarily to operational issues at mines such as Impala Rustenburg, Amandelbult, Kroondal, Rustenburg Complex, and the Marikana Mine, as well as lower grades at Mogalakwena.
Furthermore, the closure of MMC Norilsk Nickel's Nkomati mine, which produced 34.3koz of platinum in 2021, contributed to the decreased output. Meanwhile, US production fell by 16.4% in 2021, owing to safety stoppages at the East Boulder mine and a seven-week suspension of production at the Stillwater mine due to regional flooding in Montana in mid-June 2022.
In contrast, production from Russia remained relatively flat with marginal 0.3% growth to 640koz in 2022. This was mainly due to the temporary suspension of mining operations at Oktyabrsky and Taimyrsky mines, following the flooding caused by an underground water inflow. Meanwhile, Zimbabwean production increased to 474.8koz in 2022, up 2.1% from 2021, owing to the completion of the concentrator debottlenecking project at Anglo American's Unki mine in Q4 2021.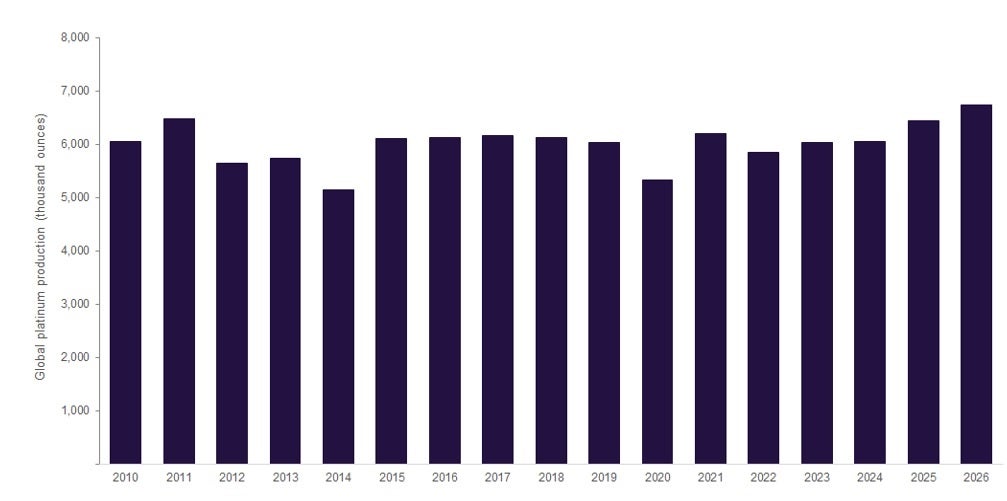 Looking ahead, global platinum production is expected to recover in 2023, up by 3.1% to 6.1moz. While South Africa is expected to contribute the majority of this growth, a marginal increase is also expected from the US. In South Africa, growth will be mainly supported by an expected increase in production from Impala, coupled with Sibanye Stillwater's Marikana and Rustenburg Complex due to improved operations amid the company's effective planning in energy, supply chain and labour markets.
Furthermore, in March 2022, Anglo American signed a memorandum of understanding (MoU) with EDF Renewables in South Africa to meet operational power requirements.
Reports
Platinum Mining Market Analysis including Reserves, Production, Operating, Developing and Exploration Assets, Demand Drivers, Key Players and Forecasts, 2021-2026